What we can learn from the ignored art of sandcastle construction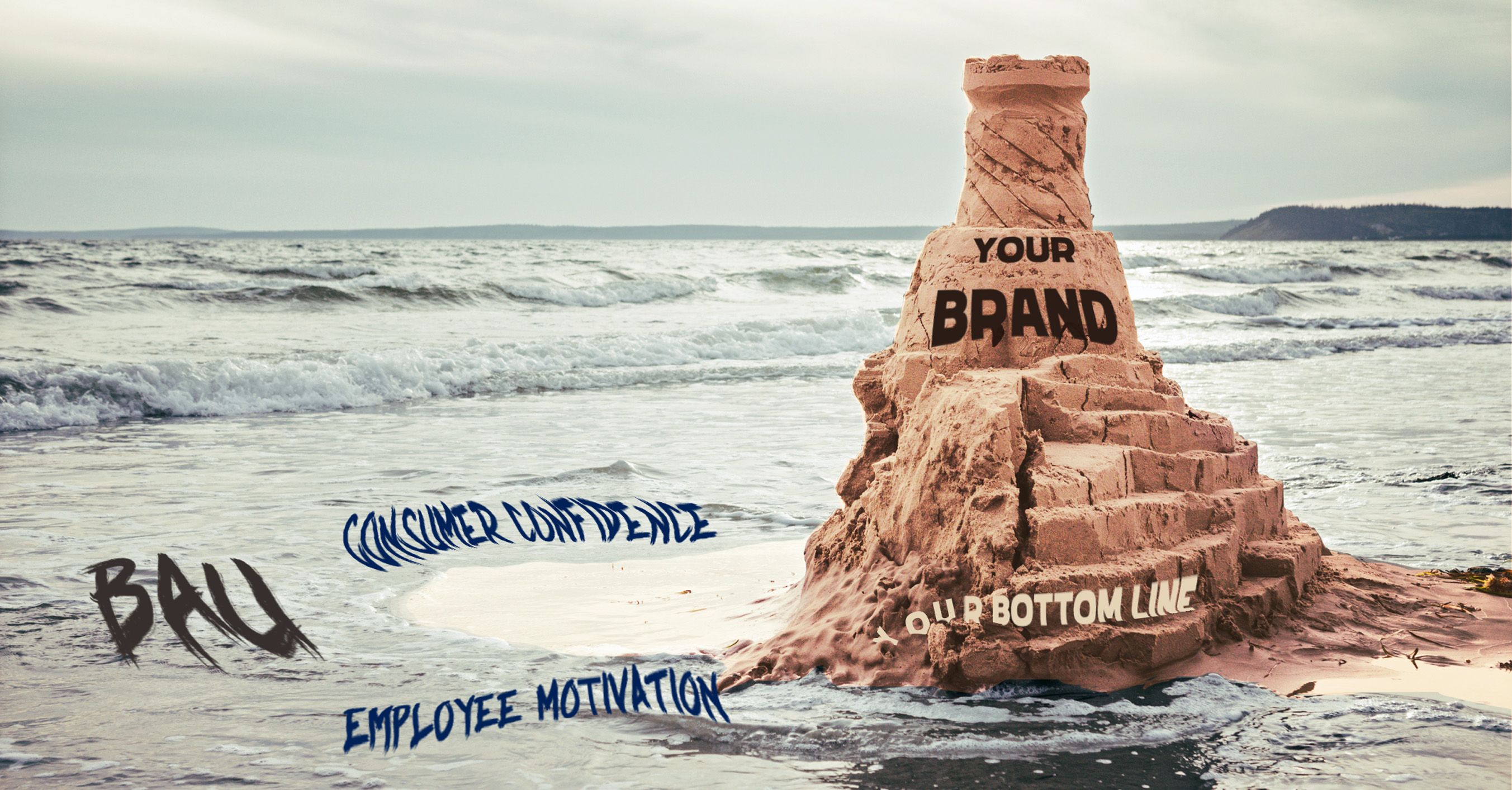 Getting swamped by waves at the beach midway through a hot day, during a hot summer and giggling as a sandcastle you built gets washed away is a lot of fun.  Getting swamped by waves of economic pessimism/realism and other unpleasant 'isms' while motivation, business-as-usual and consumer confidence gets washed away, is not.  No one enjoys watching tides erode your brand, your bottom line and your livelihood while feeling completely powerless.  
If you're keen/inquisitive and don't mind the odd forward slash/misuse-of-punctuation-for-effect, the next 3 minutes will get you thinking about ways to overcome adversity, manage change and literally draw a line in the sand for your brand. 
Warning: this is an allegory. I don't have much experience with these, so bear with me. 
I often found myself facing situations like this as a kid. I'd while away the hours on the beach, building sandcastles while my dad and uncle set about preparing fishing lines and baiting hooks ready for the evening snapper (sounds like a discarded draft of an Ernest Hemingway novella).  Even as a kid, I hated to see my hard work and creativity get washed away everyday because of the evening tides. Hated it. 
There are only two viable alternatives – adapt or… don't! 
Back then, I mostly had my head in the clouds and fair enough too, that's where kids' thoughts are supposed to be.  However, like a lot of business owners over the years, my 10-year old self also stuck my head in the sand (metaphorically and literally) by desperately trying to rescue the crumbling edifice at the front of the sandcastle.  I was purely reactive and 100% frustrated and my internal monologue kept circling back to the same old alternatives: "Perhaps if I build a protective moat, maybe I can strengthen that turret with seaweed, what if I build smaller castles around the outside?"  Nothing worked. 
Sadly, for 10-year old me, the result was always the same.  The tide came in and washed my hours of toil away and there was nothing I could do about it.  The result was always the same, until I did something different. Yup, time to adapt! 
My Dad's esky saved my sandcastle 
It's not my way to extend extended metaphors (that's a lie) but here goes.  A week into watching my best efforts and innovations in sandcastle design and construction get washed away, I hit upon an idea that changed (my) sandcastle construction methodology forever.  I decided to: 
Stop trying to recreate the past by simply repairing the existing crumbling sections 
Accept that the tide was always going to come in and wash away my sandcastle 
Seek help and wisdom from my Dad who was also an engineer, clear thinker and owned an esky 
Given that I didn't want (and was too stubborn) to abandon sandcastle-building for a beach pool excavation venture, I needed someone who could look at the problem, conceptualise a solution and provide the wherewithal to execute a plan.  
"You need a solid foundation, an elevated position that also attracts additional interest", said the wise old Forrester of the sea. 10-year old Marlon stared back blinking.  Dad handed me his half full esky and told me to build my castle on top of it.  It was a great idea.  I placed the esky on the ruins of my previous efforts, covered it with sand and built a sandcastle on top of it.  Funnily enough, other kids, probably veterans of their own losing battles against the tides, came for a look… and then they wanted to help.  Soon there was a small but enthusiastic team of kids with their own buckets helping to build a huge castle.  Brilliant. 
Later that evening, I watched the tides swamp the base but fail to shift the esky and I fell asleep in the tent safe in the knowledge that my castle was safe from the ocean. 
The only constant is change 
Dad shook me awake at 5.45am with a strong cup of coffee (yes, I drank strong coffee as a kid and yes, I'm still alive).  I stuck my head outside the tent to admire my castle against the dawn light but it was gone.  So what happened to my brilliant sandcastle and the rock solid foundation?  Well, my Dad and Uncle caught quite a few fish through the night as well as a large squid, so they unearthed the esky and put it to good use. The castle became collateral damage. The lesson was clear – because my Dad made it so. Be sure to: 
Be specific about what you need and how long you'll need it or need it to last – this will help suppliers (or parents) understand what you need and for how long.  FYI, this is also called a brief 
Ask questions about availability of resources 
Accept that everything changes and you and your strategies, plans and solutions will need to be just as flexible/adaptable/intuitive so have a plan A, B and C 
Final thought to help make this time more future-focused and productive: challenge yourself with "what ifs".  Some of them are unknowable (did anyone see Covid-19 coming…? Don't answer that) but we're better off if we are well-practiced in the art of agile thinking, preparation and building beyond our current needs or circumstances – even if it is just a sandcastle. 
Be good, be healthy, be safe.